Toyota Land Cruiser 200
TO RENT A CAR
Toyota Land Cruiser 200 SUV
Toyota Land Cruiser 200 - the legendary SUV will provide good roadability with any surface and in off-road conditions. High landing will emphasize your status.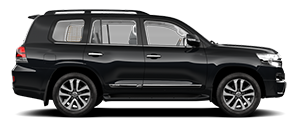 TOYOTA LAND CRUISER 200
Premium SUV
AUTO RENTAL COST
from 15000 KZT/hour
from 25000 KZT/transfer
---
Final cost of services is formed by an agreement.
We recommend renting a Toyota Land Cruiser 200 for:
– Transfer to/from an airport (railway station)
– Country trips
– Sports events
– Conferences and Forums
– Concerts
– Intercity trips